Jillian's has a wide range of quality accessories to compliment your wardrobe.
These include:
Suzi Roher Belts
Ayala Bar Jewellery
Michique Handbags
Twoa Jewellery
Michique Handbags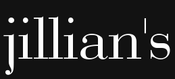 22l Queen Street, Port Perry, L9L 1B9 - 905 985 5500
Open 7 days a week - 11:00am - 5:00pm
Note: This website uses Java(TM) programming.
If the pictures do not appear, click here to download Java(TM).